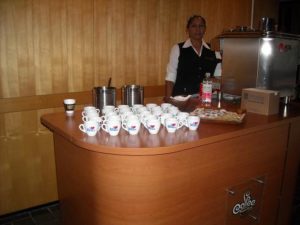 Offers premium roasted blend of Colombian & Brazilian Coffee beans from Rowland Coffee, which supplies the Bustelo brand.
An experienced Barrista will brew:
Espressos
Café Cubanos
Cortaditos
Macchiatos
Cappuccino's
Lates, and
Café con leche
This service is provided with a cigar package or on its own. Supplies include regular espresso only, sugar, sweetener, whole milk and 2%.